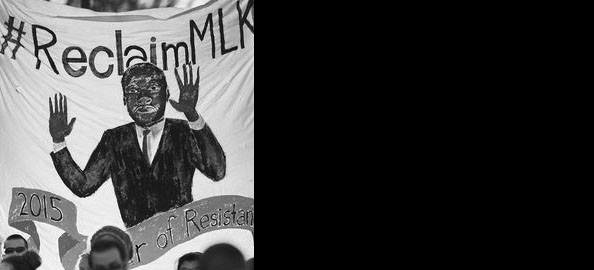 Podcast: Download (25.3MB) | Embed
Subscribe: Apple Podcasts | Google Podcasts | Stitcher | RSS | Subscribe to Podcast
<strong>JANUARY 15, 2015</strong>
<strong>FROM 'I AM A MAN' TO 'BLACK LIVES MATTER'</strong>
When the Rev. Martin Luther King was gunned down in 1968 in Memphis—where he had gone to support striking sanitation workers—the workers in the city marched with those iconic signs that read "I Am A Man." Today—on the day that King would have been 86 years old—the signs carried by protesters of police killings and violence convey the same but broader affirmation—that "Black Lives Matter." We talk to Liana Asim, who administers the popular Facebook page "2014 Michael Brown death and aftermath in Ferguson Missouri" about the killing of Michael Brown and police killings and brutality. We also talk to Ebony Washington, organizer of a protest that will be held outside the White House on the MLK holiday and also Salim Adofo, of the National Black United Front, which is holding teach-ins this weekend. Headlines on Republican White supremacists and more.