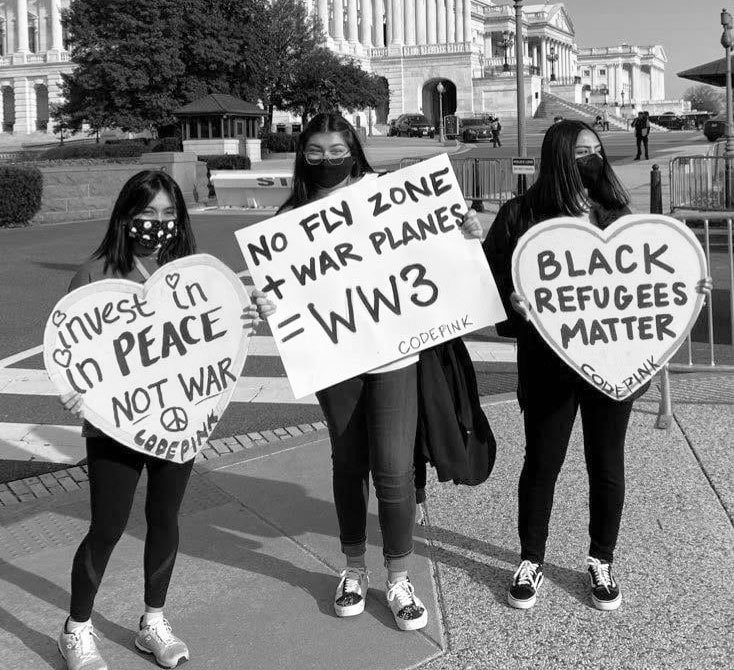 Podcast: Download (Duration: 1:00:11 — 41.3MB) | Embed
Subscribe: Apple Podcasts | Google Podcasts | Stitcher | RSS | Subscribe to Podcast
As Ukraine's president receives a standing ovation from Congress and a billion dollars more in U.S. weapons for its conflict with Russia, the peace movement wants to tamp down the war hysteria in Congress.And in the face of corporate media's overwhelming war propaganda and demonization of Russia, peace activists say that a primary task is still to educate the American public about what is really happening in Ukraine. With Brian Becker, Gerald Horne and Medea Benjamin.
Plus headlines: Peace activists say no to a no-fly zone… Bonus Audio of full program at Busboys and Poets. Support us on Patreon! A prisoner at a Central Intelligence Agency "black site" in Afghanistan was used as a training prop to teach U.S. agents  how to torture other prisoners… A series of earthquakes off the coast of Japan on Wednesday triggered a tsunami advisory near the Fukushima reactor… the Progressive Congressional Caucus listed 55 executive actions President Biden could take on to help working families… IN DC, the Chicago Justice Project filed suit against the District of Columbia for the Metropolitan Police Department's failure to comply with the D.C. Freedom of Information Act… A virtual peace and justice teach-in will be held SATURDAY, March 19th, 4pm to 6pm Eastern time on the subject: "Why Ukraine should matter to faith communities"… Covert Action Magazine writes that CIA Director William Burns admitted earlier this month the US is waging an "information war" against Russia… On the weekend of March 12, Maryland officially kicked off the celebration of the 200th birthday of abolitionist Harriet Tubman at the Harriet Tubman Underground Railroad Visitor Center in Church Creek, on Maryland's Eastern Shore.
The show is made possible only by our volunteer energy, our resolve to keep the people's voices on the air, and by support from our listeners. In this new era of fake corporate news, we have to be and support our own media! Please click here or click on the Support-Donate tab on this website to subscribe for as little as $3 a month. We are so grateful for this small but growing amount of monthly crowdsource funding on Patreon. PATREON NOW HAS A ONE-TIME, ANNUAL DONATION FUNCTION! You can also give a one-time or recurring donation on PayPal. Thank you!
Photo from Code Pink