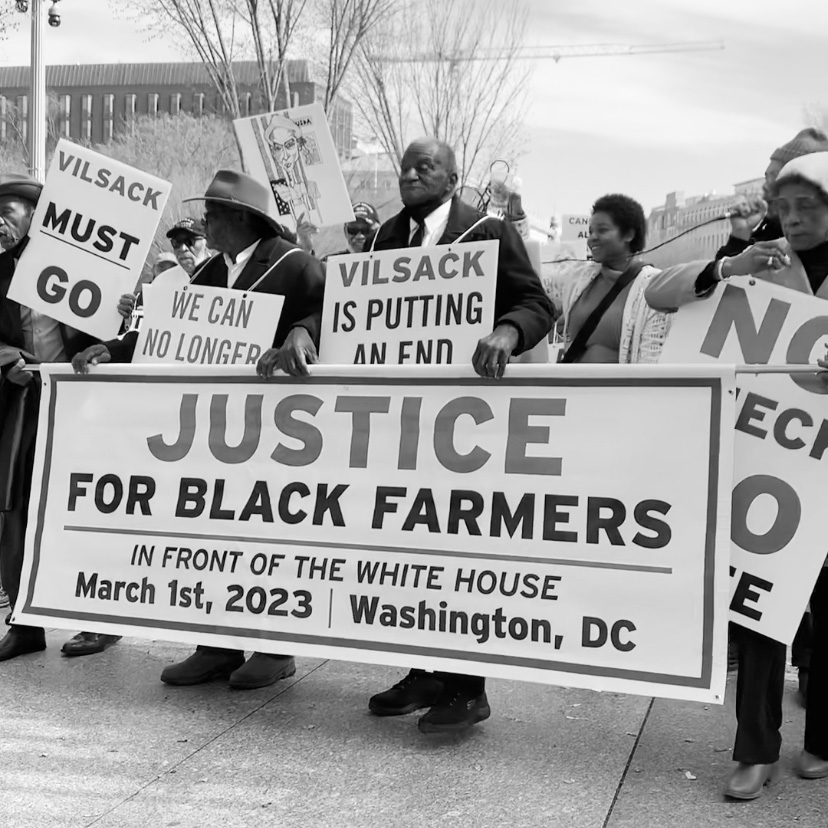 Podcast: Download (Duration: 54:37 — 37.5MB) | Embed
Subscribe: Google Podcasts | Spotify | iHeartRadio | Stitcher | RSS | Subscribe to Podcast
We spend the hour hearing from Black farmers and their advocates who traveled to DC on March 1 from 15 states to rally in front of the White House and demand that President Biden fire Secretary of Agriculture Thomas Vilsack for continuing more than a century of state-sponsored race discrimination, land theft, and economic deprivation of Black farmers.
The protest was also commemorating a March 2, 1999 fairness hearing when hundreds of Black farmers also descended on D.C. to protest the forced consent decree issued in Pigford v. Glickman, the landmark Black farmer discrimination case that was implemented so poorly that Black farmers lost 1.5 million acres of land as thousands were forced into foreclosure and lost everything they owned. According to the investigative report, How the Government Helped White Americans Steal Black Farmland, Nathan Rosenberg conservatively estimates that the theft of Black farmers land and generative income amounts to $326 billiion today.
With: Tracy Lloyd McCurty, Eddie Slaughter, Timothy Pigford, Karla Bates and more.
The show is made possible only by our volunteer energy, our resolve to keep the people's voices on the air, and by support from our listeners. In this new era of fake corporate news, we have to be and support our own media! Please click here or click on the Support-Donate tab on this website to subscribe for as little as $3 a month. We are so grateful for this small but growing amount of monthly crowdsource funding on Patreon. PATREON NOW HAS A ONE-TIME, ANNUAL DONATION FUNCTION! You can also give a one-time or recurring donation on PayPal. Thank you!