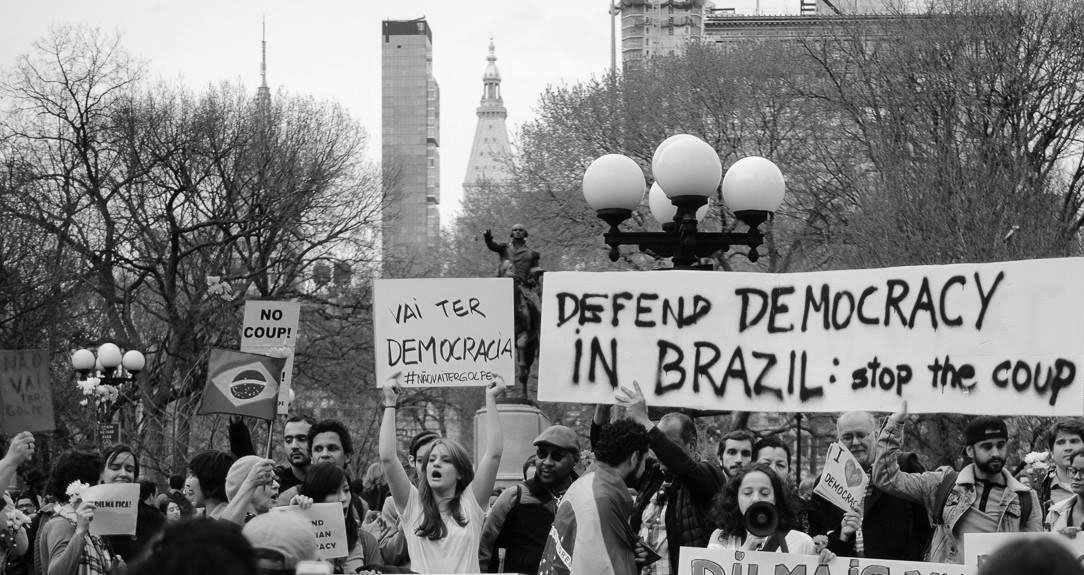 Podcast: Download (24.5MB) | Embed
Subscribe: Apple Podcasts | Google Podcasts | Stitcher | RSS | Subscribe to Podcast

Activists in the Brazilian community in the U.S. are fighting against the legislated coup against President Dilma Rousseff in their country. Also, the latest from those active in the Boycott Sanctions and Divestment Movement in the DMV. What's happening in the capital region as a new effort from the corporate establishment and Israel lobby tries to squash the BDS Movement. Guests and Voices: Benjamin Douglass, Jewish Voice for Peace-DC Metro; Joao Fenix, Brazilian performing artist and member of Brazilian Expats for Democracy in Washington, D.C.; Luiza Nassif Pires, a PhD candidate in economics at The New School for Social Research in New York City, where she is a member of Defend Democracy in Brazil.
Headlines:
-Tens of Thousands of fans and friends, as well as family members, are gathering today for the funeral of Muhammad Ali.
-The fate of millions of immigrant families is the subject of The "Faces of DAPA and DACA+ Exhibition" a traveling show of photography that opened here in DC Monday at the Center for Community Change in Northwest DC and is scheduled to displayed on the steps of the Supreme Court this morning.
-Supporters of the Boycott, Sanctions and Divestment Movement, designed to pressure Israel to comply with international law and respect Palestinian rights, are declaring an executive order by New York Governor Andrew Cuomo to be unconstitutional.
-House Speaker Paul Ryan used the House of Help-City of Hope, a church-run social services program in Anacostia, for a Tuesday press conference backdrop to unveil his national plan to fight poverty called 'A Better Way.
-Deborah Weinstein, executive director of the Coalition on Human Needs, criticized Ryan's report, saying that assistance to poor families should be expanded and improved, not cut.
-The DC presidential primary is Tuesday and presidential candidate Senator Bernie Sanders addressed a crowd on the grounds of RFK Stadium last night, encouraging his supporters to come out and vote next week.
-Veteran activist the Rev. Graylan Hagler, other faith leaders and grassroots activists are circulating a flyer calling for people to vote for Sanders to keep the debate for justice alive in the Democratic Pa
rty.
-The DC Jazz Festival is underway through next weekend, with dozens of concerts at venues all around town. This year's festival features Kamasi Washington.
-The Fly By Light Spring Showcase featured this week students from high schools across the city.

Links:
Center for Community Change
Jewish Voice for Peace-DC Metro
Brazilian Expats for Democracy in Washington, D.C.
Defend Democracy in Brazil