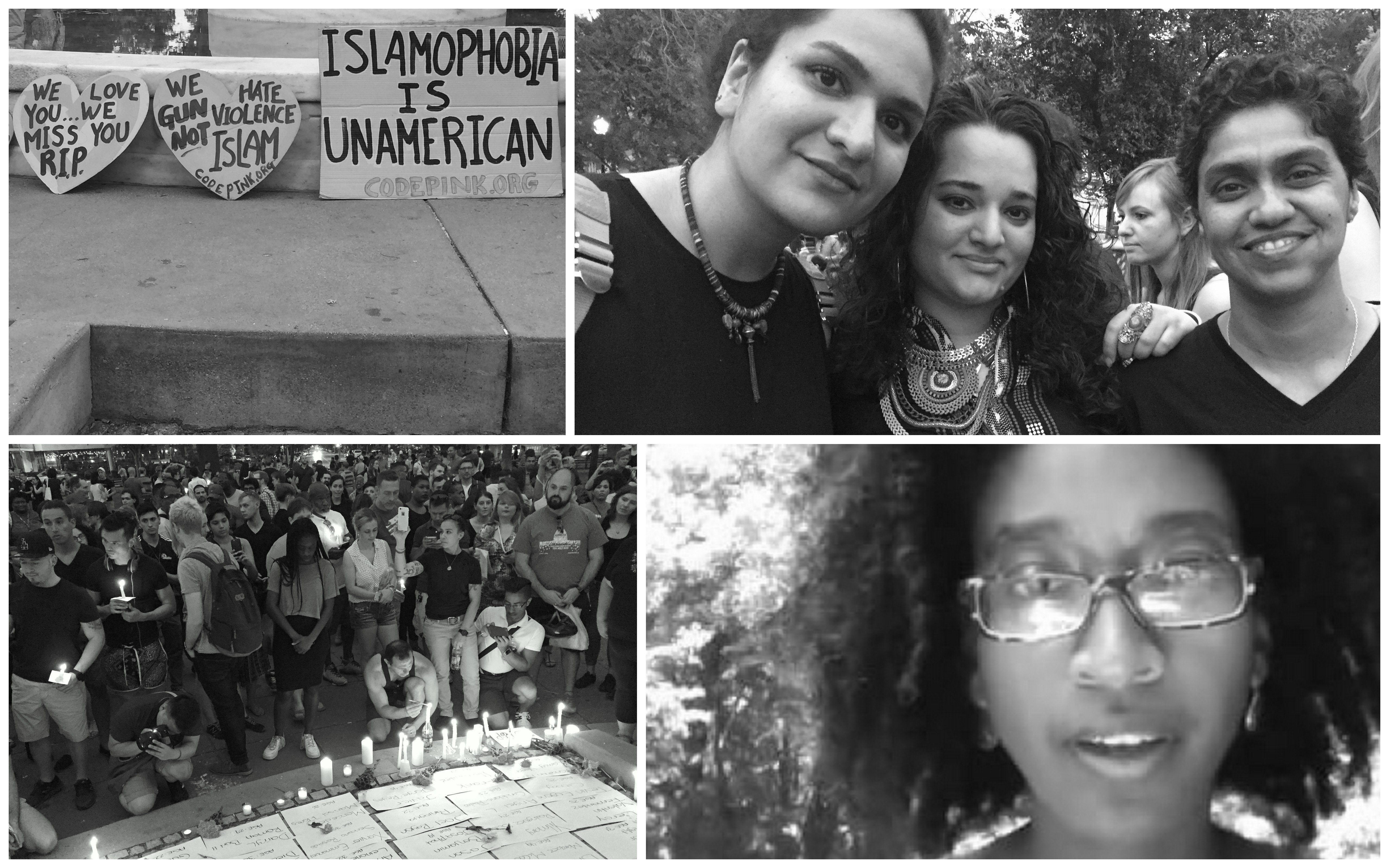 Podcast: Download (38.8MB) | Embed
Subscribe: Apple Podcasts | Google Podcasts | Stitcher | RSS | Subscribe to Podcast
Here in DC this week, much of the activity in the streets, suites, halls and assemblies focused on last weekend's massacre inside the gay nightclub, Pulse, in Orlando Florida and, unlike the simplistic narratives in the mainstream media, diverse populations in the DMV are exploring the intersection of anti-immigrant rhetoric, islamophobia and attacks on the LGBTQ COMMUNITY. Today we'll hear some of THESE voices from a massive vigil held at Dupont Circle in Northwest DC and, in the second half, a conversation with Alexis Pauline Gumbs, whose poem "Pulse" is one of the few expressions by a queer Black person to be heard online at least after the massacre.
Headlines:
-In Congress, this latest tragedy, in the midst of election season., is actually creating more discussion about a change in the country's gun laws but the debate appears mired in partisan and election season politics.
-All around the DMV, there were prayers, vigils, moments of silence. Outside the White House on Wednesday night, those gathered to stop the raids and deportations of immigrant families also made the links to this week's tragedy. Chantal James has more.
– the Scottish Parliament has voted for a national ban on fracking. And the same vote has been taken by Butte County in California.
– In Black Lives Matter News: nationally the movement continues to send support to Jasmine Abdullah and locally Beverly Smith, mother of Alonzo Smith, who died in the custody of DC Special Police last year, is sponsoring a Circle Of Love And Support (COLAS).
– this week, Mayor Bowser signed legislation for the homeless family shelter plan passed unanimously on May 31st by the DC Council.
-Details of the agreement ratified this month between 40,000 striking workers, including thousands in our region, and Verizon.
– STATEHOOD CONVENTION UNDERWAY! Today at 6pm and tomorrow at 9 am and Wilson High School in Northwest DC.
-IN CULTURE AND MEDIA, the DC Jazz Festival is underway though Sunday, Michael Franti performs at the Fillmore in Silver Spring tonight, and a special program at the African American Civil War Museum, broadcasted on WPFW, commemorated the 50th anniversary of Stokely Carmichael/Kwame Toure calling for Black Power on June 16th 1966 AT A RALLY IN MISSISSIPPI. The program was one of several hosted around the country by veterans of SNCC and their Black Power Chronicles project.
Links:
The Black Power Chronicles
"Pulse" by Alexis Pauline Gumbs, video of her reading the poem.