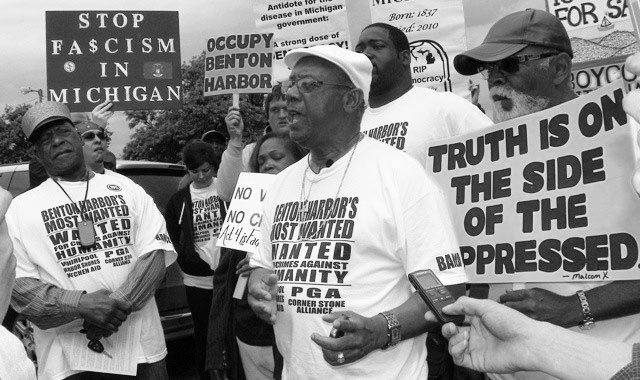 Podcast: Download (27.1MB) | Embed
Subscribe: Apple Podcasts | Google Podcasts | Stitcher | RSS | Subscribe to Podcast
This show is all about confronting attacks on healthcare, free speech, voting and the Second Amendment rights for people of color. And this is the third Friday of the month so it's time for the F-Word, our discussion of fascism. This month's guest is the human rights activist Rev. Edward Pinkney, who was released from prison in June 2017 after serving two and a half years on trumped up charges of changing the dates on a recall petition in Benton Harbor, Michigan. To many impartial observers, Pinkney was a political prisoner and his ordeal is a microcosm of the dangers of neo-fascism in the United States. Voices from DC on voting rights, healthcare and denouncing the National Rifle Association.
Voices: The Rev. Edward Pinkney, Nekima Levy-Pound, the Rev. Lennox Yearwood and Jason Walker. Photo this page by Diane Bukowski, Detroit Voice.
On The Ground: Voices of Resistance from the Nations Capital (www.onthegroundshow.org) is a weekly show that brings alternative news from DC. We cover social justice activism and activists, those who are in the DC area and those who come to DC from across the nation or from across the globe to speak truth to power. Esther Iverem, creator, executive producer and host, is an award-winning journalist, poet, visual artist and activist. Her most recent book is We Gotta Have It: Twenty Years of Seeing Black at the Movies (Hatchette Book Group).