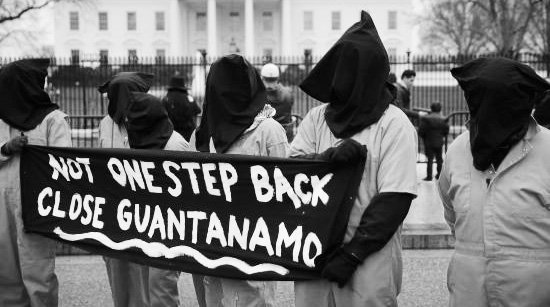 Podcast: Download (27.3MB) | Embed
Subscribe: Apple Podcasts | Google Podcasts | Stitcher | RSS | Subscribe to Podcast
On this show, we hear from attorneys and activists seeking justice for those among the 41 remaining prisoners at Guantanamo, who have been caged and tortured for more than a decade but not charged with any crime. Now Donald Trump says he wants to send more people to Guantanamo, people he describes as "bad dudes." Headlines on Trump in Paris, women march on the NRA, rallying for affordable housing and Bernie Sanders endorses Ben Jealous in his bid to be the next governor of Maryland.
Voices: Aliya Hana Hussain, Luis E. Rumbaut, Lt. Colonel Thomas Sterling, Maha Hilal , Gerald Horne, Sen. Bernie Sanders, Ben Jealous, Tamika Mallory, Sen. Elizabeth Warren
On The Ground-Voices of Resistance from the Nation's Capital (www.onthegroundshow.org) is a weekly show that brings alternative news from DC. We cover social justice activism and activists, those who are in the DC area and those who come to DC from across the nation or from across the globe to speak truth to power. Esther Iverem, creator, executive producer and host, is an award-winning journalist, poet, visual artist and activist. Her most recent book is We Gotta Have It: Twenty Years of Seeing Black at the Movies (Hatchette Book Group).
Producer and Host: Esther Iverem
Assistant Producer: Chantal James
Topics
Poverty and Wealth | International News | Civil Liberties | Torture | Africa | Western Africa | Cuba | France