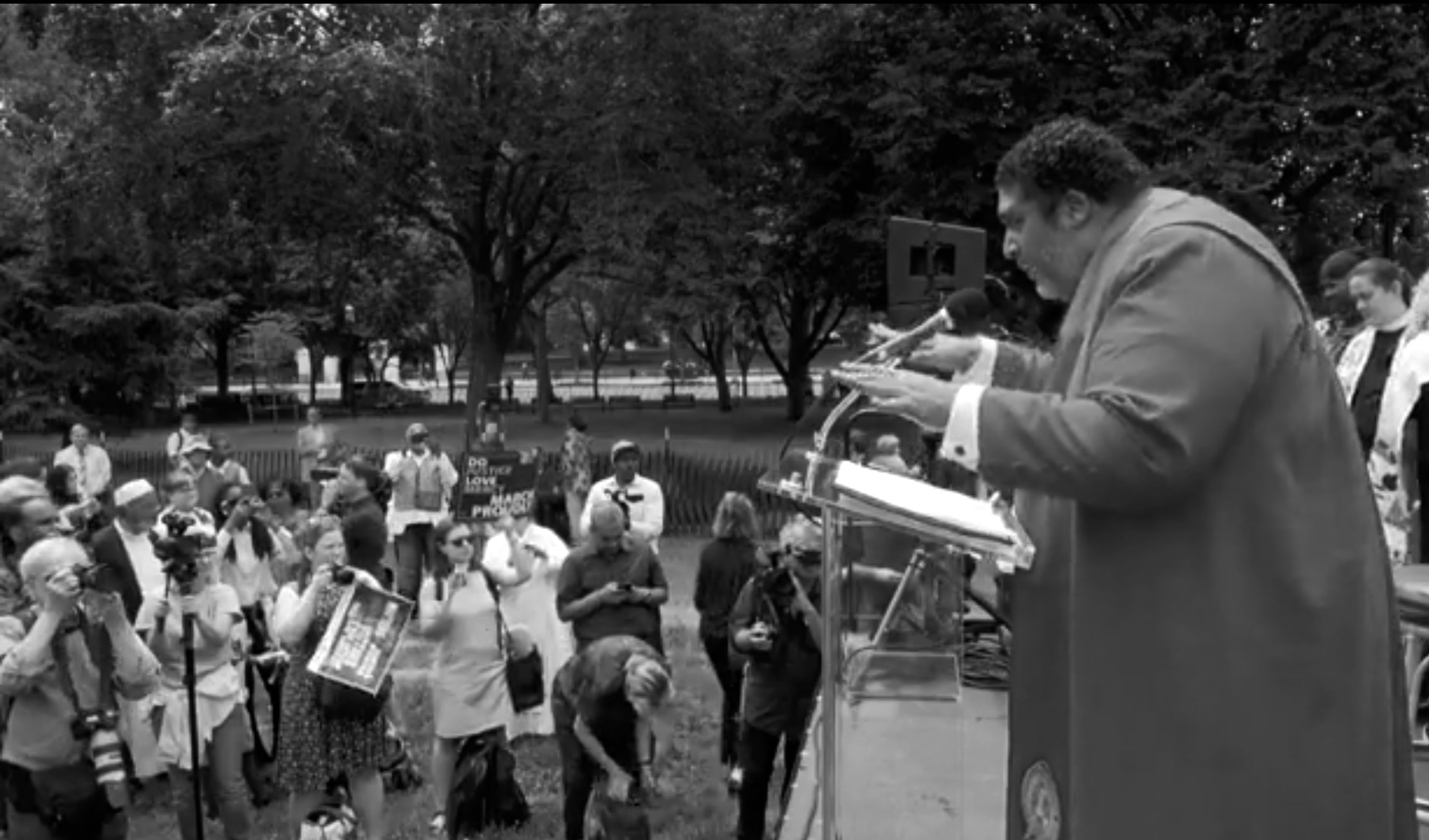 Podcast: Download (33.0MB) | Embed
Subscribe: Google Podcasts | Spotify | iHeartRadio | Stitcher | RSS | Subscribe to Podcast
Rallying in front of the White House this week, faith leaders from around the country handed down what they called a moral indictment against the Trump administration, for a range of wrongs, from denying health care to millions, to ripping migrant children from their parents. And in what some analysts are calling a suspicious provocation for war, Secretary of State Mike Pompeo blames Iran for attacking two oil tankers in the Gulf of Oman.
Plus other headlines:
–Gerald Horne on Trump and election "dirt, Hong Kong, Mexico and Poland.
–Sen. Bernie Sanders described his vision of democratic socialism as completing the unfinished agenda of President Franklin Roosevelt.
–Boston University professor Neta C. Crawford reveals in the report that from 2001 to 2017, the Pentagon generated at least 1.2 billion metric tons of greenhouse gases, exceeding the annual planet-warming emissions of industrialized countries such as Portugal or Sweden.
–Climate activists rallied at the headquarters of the Democratic National Committee, protesting the committees continued refusal to hold a presidential candidate debate focused solely on climate change.
–Cuban ambassador to the U.S. Jose Ramon Cabanas told a gathering Tuesday night in Northeast DC. that the Trump administration's recent ban on most U.S. tourism to Cuba was a reaction to the fact that more Americans were visiting the island and learning that they actually liked Cuba and Cuban people.
–Coming up this weekend is Prince Georges County's 2019 Juneteenth Celebration. That's Saturday June 15th 2019 12-5pm Watkins Regional Park.
–June 15th is the opening reception for Plans to Prosper You a free exhibit about the resilience of the Black Church and the struggle to stop the desecration of Moses Cemetery by the Montgomery County Housing Opportunities Commission.
–Also, The DC Jazz Festival is underway until Sunday, June 16th. And the Harlem Fine Arts Show is also at Howard University's Interdisciplinary Research Building until Sunday, June 16th.
If you enjoy our grassroots news show, which we provide free online, on podcast and on Pacifica stations and affiliates, please click here or click on the Support-Donate tab on this website to subscribe for as little as $3 a month. We are so grateful for this small but growing amount of monthly crowdsource funding on Patreon. You can also give a one-time donation on PayPal. The show is made possible only by our volunteer energy, our resolve to keep the people's voices on the air, and by support from our listeners. In this new era of fake corporate news, we have to be and support our own media!
Thank you!