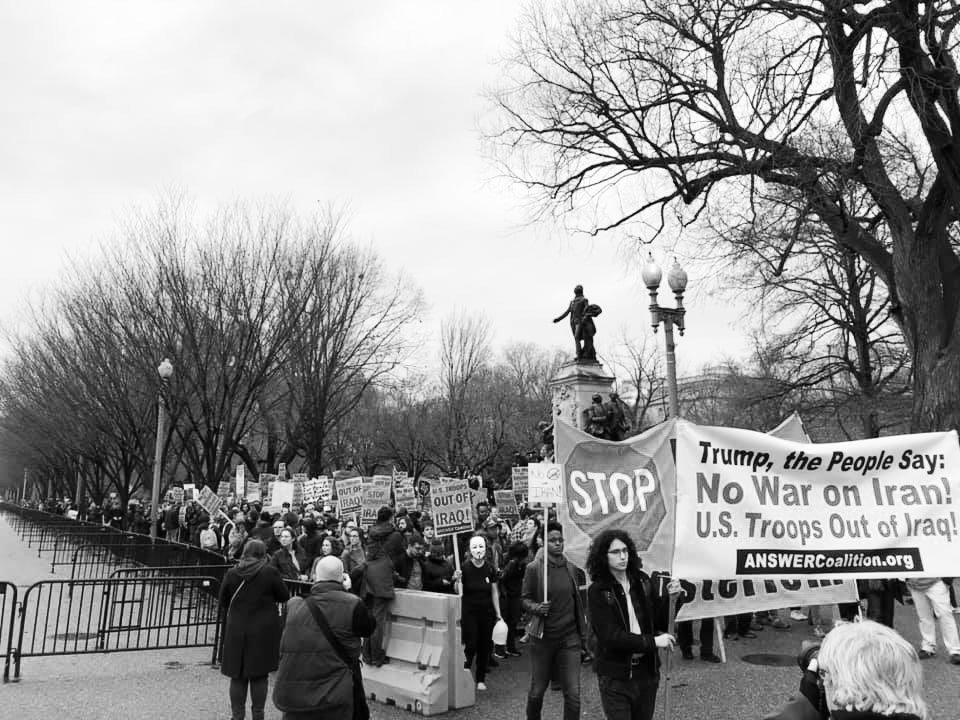 Podcast: Download (39.8MB) | Embed
Subscribe: Google Podcasts | Spotify | iHeartRadio | Stitcher | RSS | Subscribe to Podcast
The U.S. assassination of Iran's top general is ratcheting fears of war around the globe and re-awakening the anti-war movement in the United States. Voices from the No War on Iran protest in front of the White House on January 4, 2020, including Jane Fonda, Brian Becker and Sean Blackmon. And as apocalyptic images from Australia emerge of wildfires engulfing up to 25 million acres, we present part two of our coverage of congressional testimony from scientists on October 23, 2019 about oil giant Exxon lying for decades about Climate Change.
Voices: Martin Hoffert, Ed Garvey, Naomi Oreskes, Susan Eubanks, Mustafa Santiago Ali, Rep. Jamie Raskin (D-MD), Rep. Jimmy Gomez (D-CA), Rep. Alexandria Ocasio-Cortez (D-NY), Sean Blackmon, Kevin Zeese, Brian Becker, Mara Verhaden-Hilliard, Jane Fonda 
The show is made possible only by our volunteer energy, our resolve to keep the people's voices on the air, and by support from our listeners. In this new era of fake corporate news, we have to be and support our own media! Please click here or click on the Support-Donate tab on this website to subscribe for as little as $3 a month. We are so grateful for this small but growing amount of monthly crowdsource funding on Patreon. You can also give a one-time donation on PayPal. Thank you!