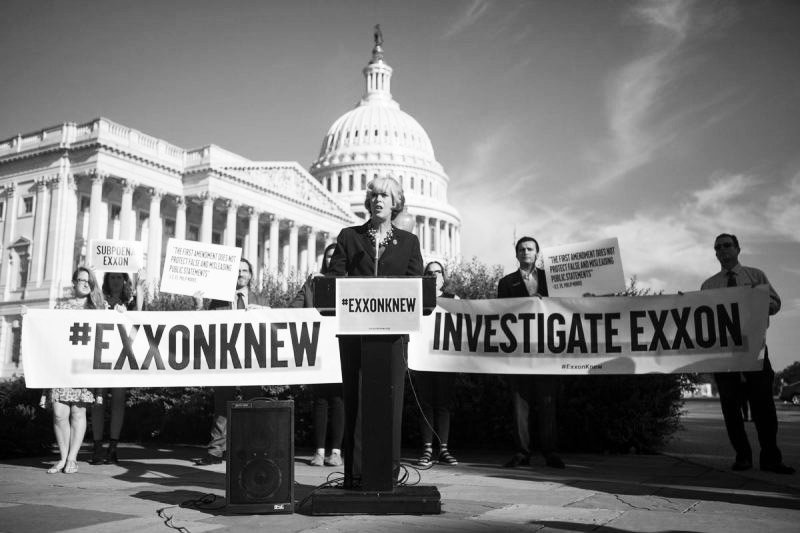 Podcast: Download (33.2MB) | Embed
Subscribe: Apple Podcasts | Google Podcasts | Stitcher | RSS | Subscribe to Podcast
The first of two shows featuring extraordinary testimony from former Exxon scientists about the oil giant knowing and lying for decades about climate change. Experts say that an intense corporate disinformation campaign has led to decades of inaction and to today's climate crisis.
Voices include Former Exxon scientists Martin Hoffert and Ed Garvey, Naomi Oreskes, Susan Eubanks, Mustafa Santiago Ali, Rep. Jamie Raskin (D-MD), Rep. Jimmy Gomez (D-CA), Rep. Alexandria Ocasio-Cortez (D-NY). Photo credit: Green Peace action in 2017 at U.S. Capitol by Robert Meyers / Greenpeace.
The show is made possible only by our volunteer energy, our resolve to keep the people's voices on the air, and by support from our listeners. In this new era of fake corporate news, we have to be and support our own media! Please click here or click on the Support-Donate tab on this website to subscribe for as little as $3 a month. We are so grateful for this small but growing amount of monthly crowdsource funding on Patreon. You can also give a one-time donation on PayPal. Thank you!