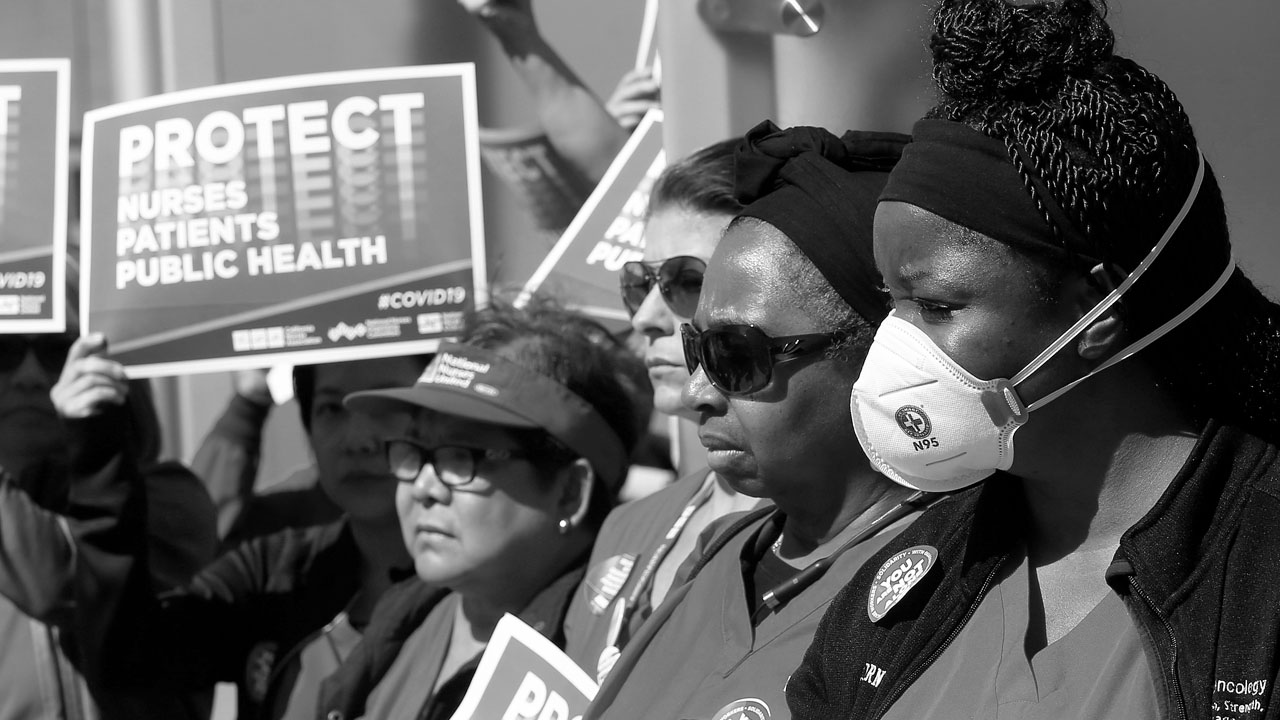 Podcast: Download (39.8MB) | Embed
Subscribe: Apple Podcasts | Google Podcasts | Stitcher | RSS | Subscribe to Podcast
Whether it is the pandemic, the toll of sick and dying, or the unprecedented army of the unemployed, the United States has entered uncharted territory. We speak to activists, including Pam Tau Lee of San Francisco. And even with a quarter million confirmed cases and more than 6000 dead, the pandemic has not stopped U.S. capitalism from threatening lives around the globe and here at home. We speak to Professor Gerald Horne and Dr. Margaret Flowers. Part 2 bonus interview with Gerald Horne here.
Plus Headlines: -As of this show, there are about a quarter million known coronavirus cases in the United states and more than 6,100 deaths, while the global number of cases tops one million. -A record 6.6 million Americans filed unemployment claims for the week ending March 28th. -The overwhelming crisis here at home is not stopping Washington from continuing to ratchet up conflicts and attacks on other countries, including Venezuela and Iran.
-The National Lawyers Guild, other legal groups and hundreds of lawyers sent a letter to Mike Pompeo and the Trump administration demanding an end to sanctions on those countries, and categorizing those sanctions as a crime against humanity -Chantal James reported on a digital Town Hall in support of Gaza.
-A petition from environmental organizations calls on the EPA to protect public health against corporate pollution. And Michele Roberts spoke to Larry Lambert, a member Delaware Concerned Residents, who listed the myriad of battles he faces with polluters in that state. -DC lawmakers are appealing Congress to correct the stimulus allocation to the District of Columbia, which was designated as a territory like Guam and given 700 million less than other states. And more than a third of homebound DC public school students cannot access their lessons on a computer and received an assist from a local TV station.
-In Culture and Media, the organization Free Press has filed an emergency petition for inquiry with the Federal Communications Commission calling on the agency to investigate the spread of false COVID-19 information via broadcast outlets, including by Donald J. Trump in his daily news conferences. And Gerald and Esther recommend movies available to stream or rent at home.
The show is made possible only by our volunteer energy, our resolve to keep the people's voices on the air, and by support from our listeners. In this new era of fake corporate news, we have to be and support our own media! Please click here or click on the Support-Donate tab on this website to subscribe for as little as $3 a month. We are so grateful for this small but growing amount of monthly crowdsource funding on Patreon. You can also give a one-time donation on PayPal. Thank you!
Post Photo Credit: pic.twitter.com/8bu8YOWkoz — Darwin BondGraham (@DarwinBondGraha) March 24, 2020