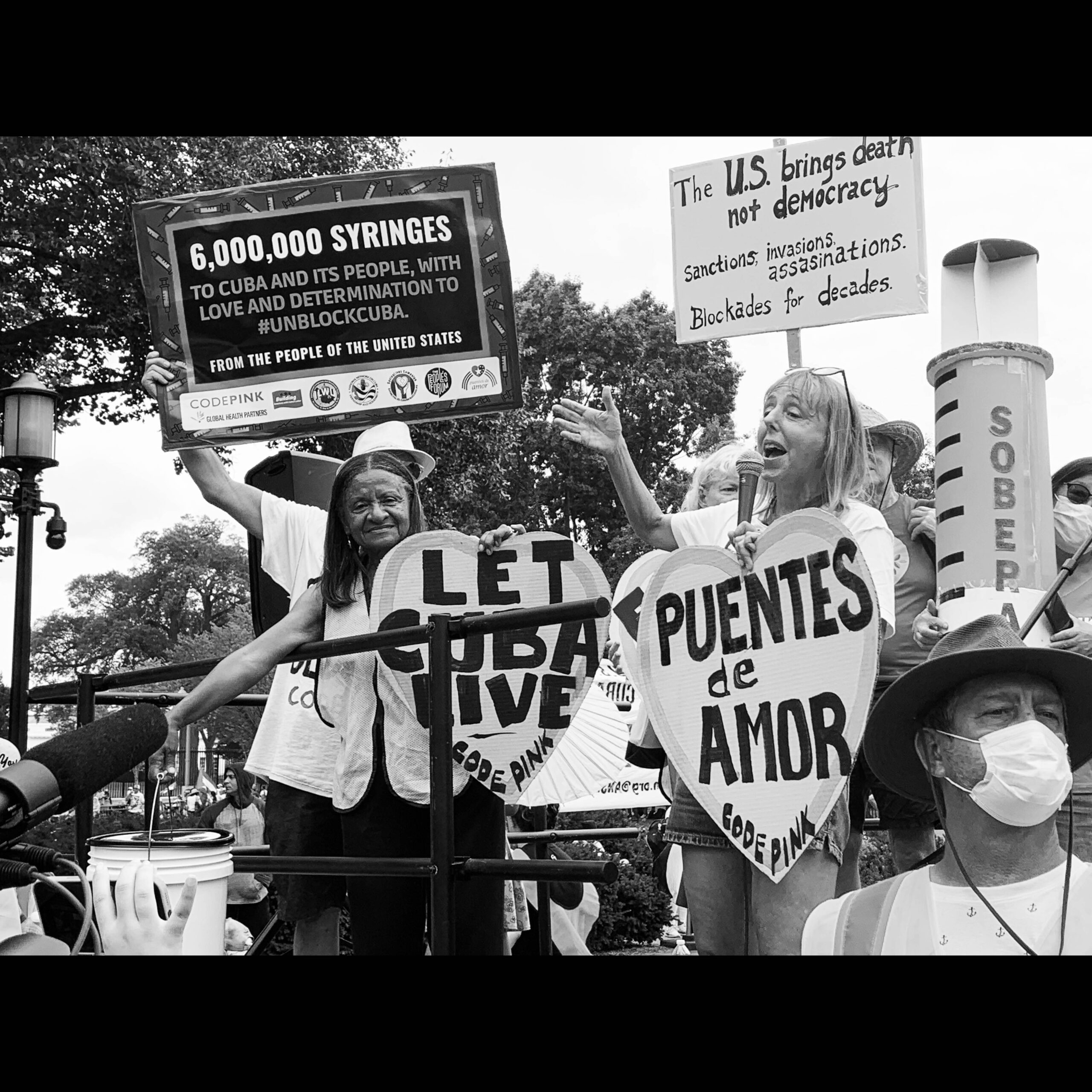 Podcast: Download (Duration: 56:05 — 38.5MB) | Embed
Subscribe: Apple Podcasts | Google Podcasts | Stitcher | RSS | Subscribe to Podcast
Hundreds of protesters rally in front of the White House to say "Let Cuba Live" and to demand that the illegal U.S.embargo and sanctions on Cuba be lifted. While supporting a campaign led by Cuban Americans to end the blockade, these protesters were also the target of hostile far-right demonstrators who tried but failed in their attempt to stop this action for Cuba solidarity, which is shared by almost every country on the planet. The rally welcomed the Bridges of Love / Puentes De Amor project of Seattle teacher Carlos Lazo, a Cuban American who walked 1300 miles to DC from Miami with friends to deliver petitions signed by 27,000 people across the country to lift the blockade.
With Rev. Graylan Hagler, Medea Benjamin, Sean Blackmon, Carlos Lazo, Adeyemi Bandele, Attorney Jose Pertierra, Robin Harris of the Green Party Florida, Omari Musa, Musician Patricio Zamorano.
Web exclusive report by Chantal James on on African Americans, the legacy of he Tuskegee experiments and vaccine hesitancy.
The show is made possible only by our volunteer energy, our resolve to keep the people's voices on the air, and by support from our listeners. In this new era of fake corporate news, we have to be and support our own media! Please click here or click on the Support-Donate tab on this website to subscribe for as little as $3 a month. We are so grateful for this small but growing amount of monthly crowdsource funding on Patreon. PATREON NOW HAS A ONE-TIME, ANNUAL DONATION FUNCTION! You can also give a one-time or recurring donation on PayPal. Thank you!