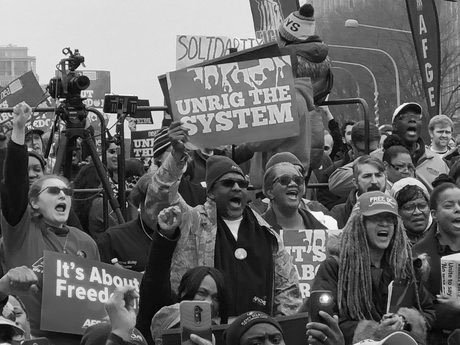 Podcast: Download (39.4MB) | Embed
Subscribe: Apple Podcasts | Android | Google Podcasts | Stitcher | RSS | Subscribe to Podcast
March is beginning with lots of big issues being addressed in DC. This week, the Supreme Court began hearing arguments in Janus v. AFSCME, a case backed by billionaires that would allow workers who are not union members but receive pay raises and other benefits negotiated by the union, to not pay union dues. Tens of thousands of people gathered February 24th at events around the country for the Working People's Day of Action On today's show, we hear diverse voices from the DC rally. Also, Gerald Horne on South Africa land reform, China, Russia and Syria.
Headlines on Congressional hearings on the 2001 Authorization for the Use of Military Funding (AUMF), which has been used for endless war; Yemen; Dreamers march 250 miles to DC and get arrested; Scientists alarmed by warm Arctic temperatures; Academy Awards; elder freedom fighter Hollis Watkins.
Rep. Barbara Lee; Rep. Justin Amash; Sen. Bernie Sanders, Prof. Gerald Horne, Liz Shuler (AFL-CIO); Elizabeth Davis Wash Teachers Union; CWA Pres. Christopher M. Shelton; Dreamer Marchers; elder Hollis Watkins; voices from Working People's Day of Act
"On The Ground-Voices of Resistance from the Nation's Capital" (www.onthegroundshow.org) is a weekly show that brings alternative news from DC. We cover social justice activism and activists, those who are in the DC area and those who come to DC from across the nation or from across the globe to speak truth to power. Esther Iverem, creator, executive producer and host, is an award-winning journalist, poet, visual artist and activist. Her most recent book is 'Olokun of the Galaxy,' a book of poetry and visual art about honoring Earth's oceans and ecosystem and those who perished or descended from the Atlantic Slave Trade. (Seeing Black Press).
Post photo by www.dclabor.org