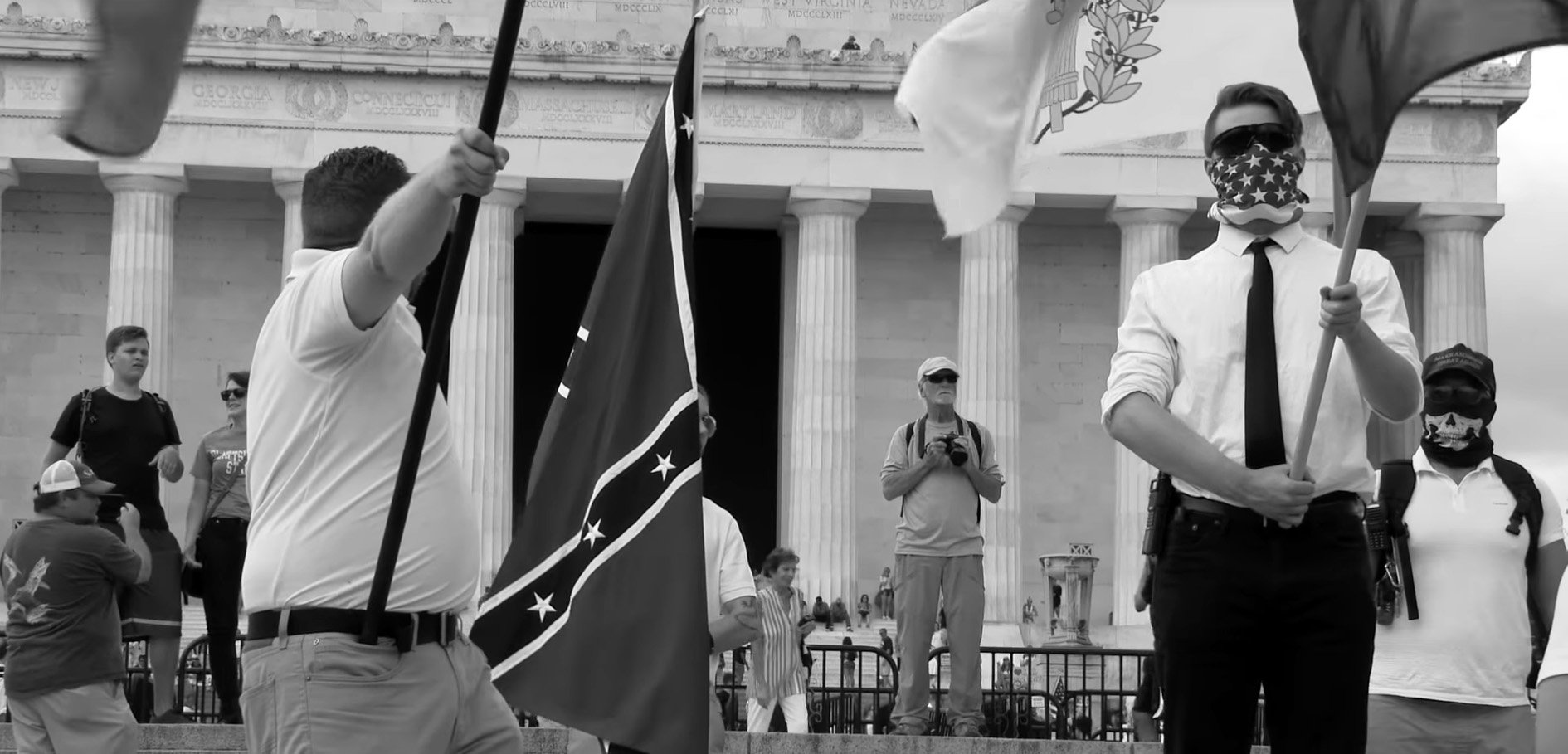 Podcast: Download (33.2MB) | Embed
Subscribe: Apple Podcasts | Google Podcasts | Stitcher | RSS | Subscribe to Podcast

On this show, activists in and around DC, and traveling to DC, prepare to counter a rally by Nazis, Ku Klux Klan and other fascist groups…The June 2017 "free speech" rally at the Lincoln Memorial was a "dress rehearsal" for the deadly rally in Charlottesville…The so-called Unite the Right 2 Rally is occurring after Black Lives Matter organizations round the country held annual "Night Out for Safety and Liberation" actions. We hear voices from the DC event.
FEATURED VOICES: April Goggans, Black Lives Matter DC; Gerald Horne; Andrew Batcher and Mike Stark with the ShutitDownDC Coalition.
PLUS HEADLINES:
-Friday August tenth begins two days of counter-protests against the Unite the Right 2 Rally, planned for Sunday, August 12th, in front of the White House. A broad coalition of left, progressive and faith organizations is taking part in this weekend's counter-demonstrations.
-Chantal James reports on screening of "Cointelpro 101."
-Criminal justice reform advocate Wesley Bell, unseated Bob McCulloch in the Democratic primary for the St. Louis County Prosecutor's seat in a stunning political upset. McCulloch, is the prosecutor responsible for overseeing the infamous grand jury proceedings that resulted in the non-indictment of officer Darren Wilson in the killing of Ferguson teenager Michael Brown four years ago this week in August 2014.
-Interior Secretary Ryan Zinke is under fire for writing an op-ed that blames environmentalists for the ongoing infernos in California.
-Also, in a "major victory for public health," the U.S. Court of Appeals for the 9th Circuit on Thursday ruled the Trump administration illegally blocked a ban on the dangerous pesticide chlorpyrifos.
-Baltimore could become the first city in the country to amend its charter to prohibit the sale and lease of its water and sewer system.
IN CULTURE AND MEDIA,DC Poor Peoples Campaign Justice Arts Movement
Is holding a jam session with an open mic Sunday , August 12th…In movie theaters, the Boots Riley satire "Sorry to Bother You" has emerged as an indie summer hit…the powerful Frontline/ProPublica documentary, Documenting Hate – Charlottesville is on TV and online at www.pbs.org.
INTERNATIONAL NEWS WITH GERALD HORNE:
The U.S.-backed Saudi regime bombs a school bus in Yemen, killing dozens and injuries dozens more.
THE U.S. slaps new sanctions on Russia and bullies Iran.